Art & Architecture
article | Reading time7 min
Restoration and maintenance of sculpted decor

Every spring, you may notice the tarpaulins that cover the statues of the Domaine National de Saint-Cloud during the annual maintenance campaign. Lift the veil to discover the discreet but essential work of the restorers of the gardens' sculpted heritage...
Behind the scenes of restoration
A precise diagnosis
In 2010, the statue of Neptune facing the 24 Jets basins began to show worrying signs of weakness, in particular the right arm carrying a dolphin, which was threatening to fall. This alarm led not only to immediate action to consolidate the work, but also to a condition report on all the statues, groups and vases on the estate.
Several types of damage were observed. Fractures and cracks make the works fragile. Wear and impact cause material loss. Colonization by algae, lichen or moss causes colored spots on the surface. Pollution, for its part, favors the appearance of deposits and black crusts.
The study enabled us to assess the degree of urgency and the priorities for intervention according to the condition of the statues. It also defined the treatments best suited to the wide variety of materials used. You can find sculptures in marble, limestone, bronze, cement or, more surprisingly, ceramic!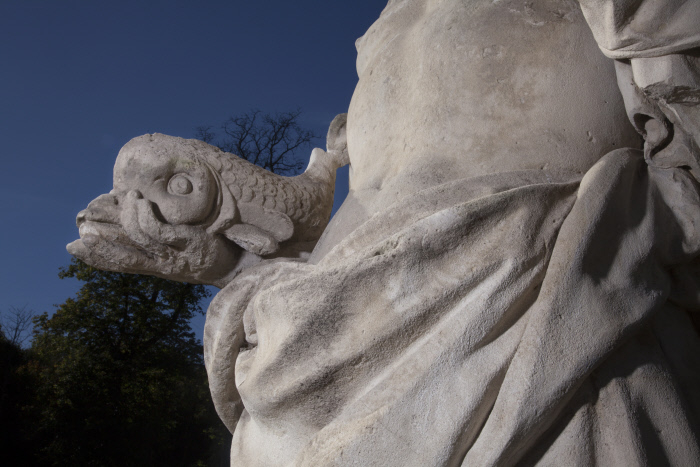 Restoration campaigns
Over the past ten years, a sponsorship campaign called "Adopt a Statue" has enabled the restoration of 25 statues or sculpted groups and 9 vases.
Initiated in 2010 with the statues of Neptune andApollo, the restoration campaign continued with the other statues-terms of ancient gods, commissioned by Napoleon III for the 24 Jets. It came to a spectacular end five years later with the reassembly of the statue of Ceres, which had been knocked over and broken into three main pieces (head, body and sheath) in an accident in 2007.
Over the years, the entire decorative ensemble has been treated. Consolidation and cleaning of the pedestals has been an integral part of the various interventions. Information panels have been installed in front of each work of art.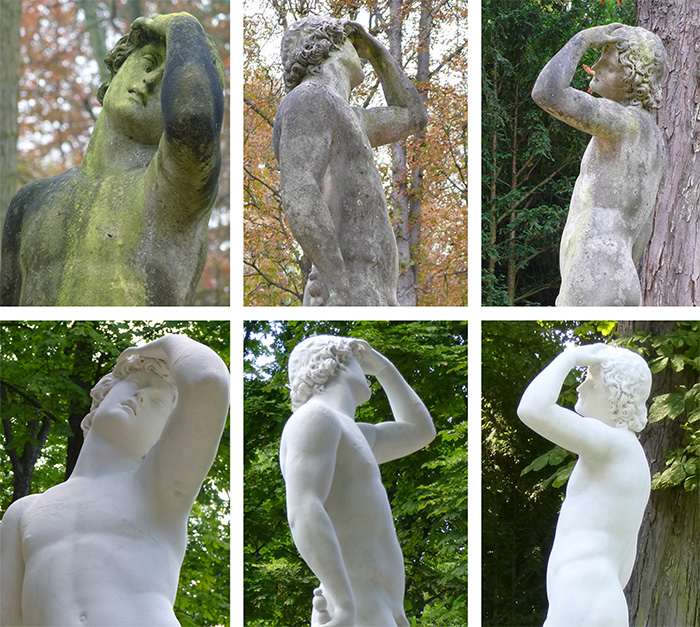 Maintenance of the works
Since 2012, an annual cleaning campaign has been carried out to maintain the statues after restoration. Brushing and gentle cleaning of surfaces with water form the basis of the interventions. Biocide spraying, carried out on a case-by-case basis, helps to halt biological recolonization.
Graffiti and felt-tip pen drawings regularly damage the works. This monitoring also helps to restore their integrity and erase traces of vandalism.
Finally, the presence of scaffolding offers the opportunity to access areas that are usually inaccessible, to observe them closely and document the evolution of the sculptures' condition over the long term.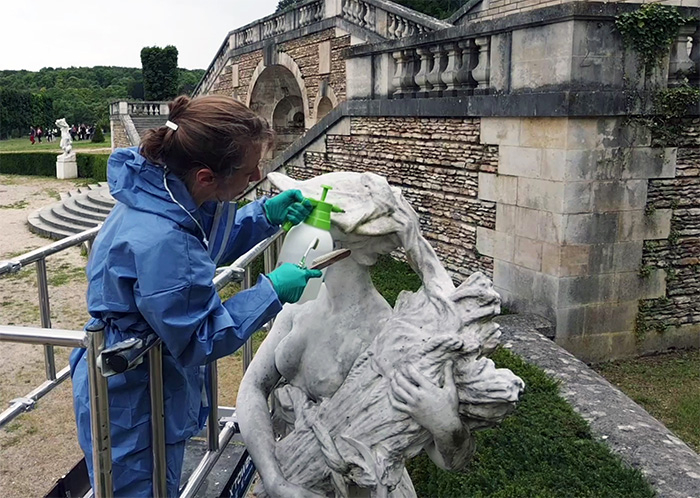 Find out how the statuary at the Domaine National de Saint-Cloud is maintained and monitored.